How to choose the right size: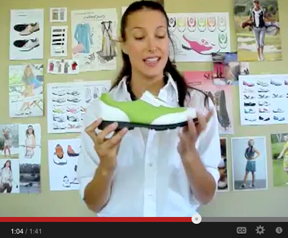 Our Designer Talks About Fit
CLICK HERE to watch the video now.
1. Sandbaggers golf shoes run generous in length and width and are a "C" width.

2. If you have a medium width foot and you plan on wearing our shoes without socks
(as most of our customers do) you should order one half size smaller than your
normal street shoe size for closed toe shoes. Example: If you normally wear a size 8, order a size 7.5
Please Note: The Tassel Toe and Gina, low-cut flats, run slightly narrower in the toe box and therefore
run more true to size than any of our other styles.
We recommend ordering your normal street shoe size in these 2 styles.

3. If you have a very wide width foot we recommend that you order your normal street shoe size.

4. Our friendly customer service team is available to help you. Remember to call us toll-free
(803) 831-5347 EST M-F 9-5pm if you have particular concerns/questions.

5. Please remember: Depending upon the time of day and amount of walking/standing you've been doing your
foot may be larger or smaller than normal. It's a good idea to try the shoes on BOTH in the evening and
in the morning. Please wear shoes indoors on a clean, soft surface to make sure they are a comfortable fit
before walking 18 holes for golf. You know your foot best.